Tristan can't get enough of Santa! I had waited until after he saw Santa at our church Christmas dinner to take him because I didn't want to pay for him to scream and cry. Here are a couple of pictures from the church dinner: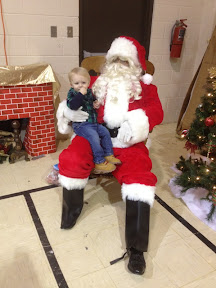 So I had no reservations about taking him to see Santa at a mall. The tough decision was, which one. The guy in Charleston actually looks like Santa, but he wasn't very pleasant and it took us over an hour to see him last year. The guy in Huntington wears a fake beard and their picture prices are extremely high. So I decided, without knowing anything about their Santa, to take Tristan to Ashland. What a good decision! The prices were reasonable, but the real gem was the Santa! He really looks like the real Santa and was SO nice. Here are the pictures: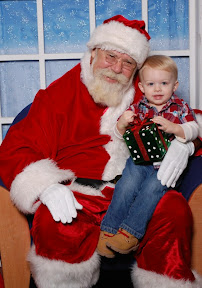 Here is a transcript of Tristan's visit as told by him:
Me: What did you do today?
Tristan: I see Santa!
Me: What did you tell him you wanted?
T: Sisan play etar! (translated: Tristan play guitar! Which IS what he told Santa!)
Me: What did he give you?
T: Santa give candy canes.
Me: What did Momma get?
T: I gotta go pay. (I told him to stay with Auntie Alex, I have to go pay! That kid doesn't miss a thing!)